eShowMail
Connect Exhibitors and Attendees before the Event
The idea is simple. We help exhibitors connect, via email, with attendees that are interested in their products and services. We do all the work and share revenue with the show organizer.

Protect your Attendees. The primary goal of eShowMail is to protect your attendee's contact information. To do this, we send emails for your exhibitors and never show them the attendee list.

Permission Based Email. For show organizers that are concerned about their attendees getting unwanted emails from exhibitors, we implement an "opt-in" program. At registration, attendees are able to choose whether or not they want to receive emails from exhibitors. We let them know that their email address won't be shared either way, and let them decide. In addition, attendees are able to "opt-out" of the program at anytime by clicking the "unsubscribe" link in any exhibitor email.

Targeted Emails. Show organizers that want to provide more relevant info to attendees, or simply reduce the number of emails sent can segment the attendee list and allow exhibitors to send to specific attendee categories. We work with exhibitors to implement this program and help them decide which groups are best for them.

Schduling. At every event, we implement a schedule that typically has no more than 2 email blasts being sent per day. Emails are sent at the same time everyday, usually 4 hours apart.

No Cost. Most of the show organizers we work with generate revenue from our program by marking up our price. The exhibitor pays to send their email, and we charge a flat fee, whatever is left over goes to the show organizer. There are no setup charges associated with the eShowMail program.
Download PDF
eShowMail Video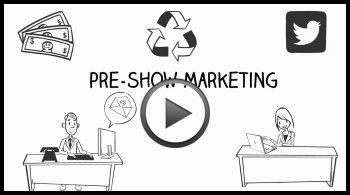 Setup a meeting